Quando di solito segnaliamo i brevetti, è per i design dei controller, il nuovo hardware e talvolta anche le modifiche e le modalità per un gioco specifico. Oggi abbiamo scoperto che Nintendo ha archiviato qualcosa che è correlato all'ultima cosa, ma in realtà aiuterà a semplificare lo sviluppo del gioco per tutte le sue IP su Switch.
Questo brevetto depositato di recente riguarda un processo chiamato deformazione: questo è qualcosa che impedisce alle trame dei vestiti di vedere in un modello di personaggio nel gioco. Quindi, sai, nessuna imbarazzante mancanza di fruscio del mantello perché si confonde con la coscia di Mario o qualcosa del genere. E nessuna pelle esposta accidentalmente nelle zone invernali. Non vogliamo che Link si raffreddi nella regione di Hebra, vero?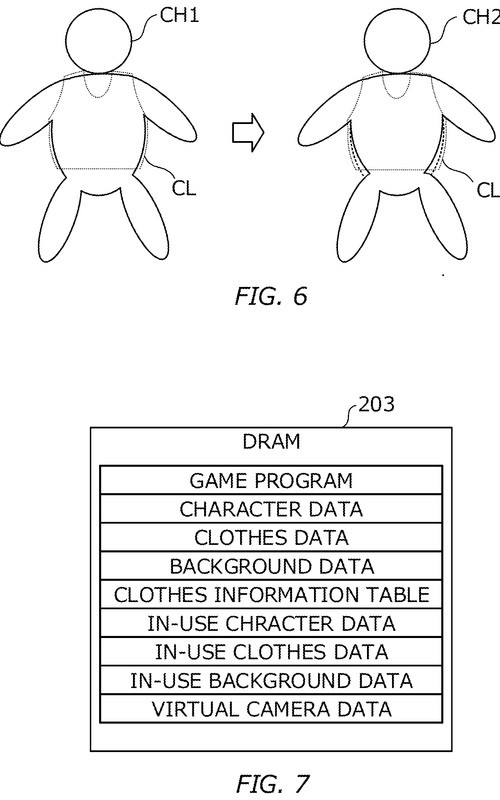 Nell'immagine sopra, puoi vedere un contorno molto debole di vestiti sul modello del personaggio a sinistra (CH1). Questo è troppo vicino, il che porterebbe al tipo di cucitura che non ti aspetteresti da una persona. Immaginiamo che questo sia un dolore particolare per i vestiti fluttuanti come le gonne. Ecco come potrebbe apparire un modello prima della deformazione. La tabella sotto le due cifre indica tutto ciò che è memorizzato dalla memoria dinamica ad accesso casuale (DRAM) del gioco. E vedrai che ci sono anche i dati sui vestiti.
Il personaggio a destra (CH2), invece, è quello fortunato. Nessun rischio di avere un brivido a causa della pelle esposta, poiché il modello del personaggio è stato rimpicciolito e gli abiti ora sono uno strato in più. In precedenza, gli sviluppatori avrebbero dovuto realizzare un modello nuovo di zecca per adattarsi ai vestiti che volevano che indossassero. Quindi, è proprio come indossare un maglione sopra i vestiti!
Tuttavia, questo brevetto ha suscitato una certa confusione tra i fan. Il brevetto è stato depositato da Takuhiro Dohta, supervisore tecnologico di Zelda: Breath of the Wild, che presumiamo stia lavorando anche a quell'inafferrabile sequel. Il che ha fatto ipotizzare che Breath of the Wild 2 avrà la durata dell'armatura e la durata dell'arma.
Bene, in realtà non sappiamo nemmeno se il gioco avrà quest'ultimo, ma di certo non pensiamo che il gioco farà sprecare i vestiti di Link mentre esplora. Abbiamo già persone che si spogliano di Link in montagna per divertimento, quindi non pensiamo che sia giusto rendere Link più freddo di quanto possa già avere.
Quindi, non preoccuparti! Questo è solo per aiutare gli sviluppatori a rendere un po' più semplice la progettazione del gioco e non per punirci per aver combattuto contro Lynel e per essere stati caricati in faccia da loro con un'armatura che è chiaramente non buono abbastanza.
.